By Meowster
This article will contain spoilers for both Chrono Trigger and Chrono Cross.
It is only in recent times that gaming has begun stretching its writing talent and exploring new themes and challenges that are unique to the medium. While there have been several well-written games, this has largely been ignored for other factors: gameplay and replayability and customization. Some believe that a lot of these trends started in the late 90s with Squaresoft and Enix – two powerhouse Japanese studios that strongly believed in creating a compelling story to go alongside their innovative engine.
One of these games was Chrono Cross.
Chrono Cross was the sequel to the beloved Chrono Trigger, one of the greatest classics of all time and a staple to the Super Nintendo, and was released to overwhelming praise by critics (with a staggering 94 score on Metacritic and a mulit-winner of several Game of the Year accolades). It is often considered one of the most towering achievements of the original PlayStation, one of the few games to truly make the most of the system's resources and push them to the max. With fantastic visuals, fun battle system, and one of the greatest soundtracks of all time, it receives a lot of love by its fans.
Despite all of this, Cross remains one of the most controversial games out there – due in large part to the unconventional themes, the lack of influence of key Trigger members, and a shocking connection to the original game that still divides fans to this day.
Japanese role-playing games are often noted for their themes of existentialism, typically rooted in a plucky young man (or boy in most cases) going through the events of a traditional Bildungsroman that leads to their eventual development after exploring the world and learning that there is more to life than just their own desires and beliefs. This can especially be seen in games like Final Fantasy and Dragon Quest, other Square Enix titles, that helped define the medium. The Chrono games are a little different.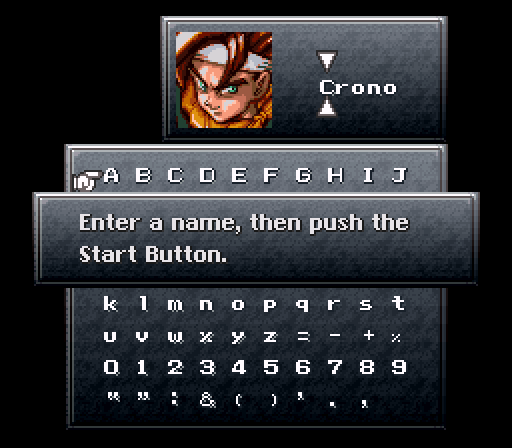 Crono, the main character of Trigger, is a mute avatar largely due to the influence of Yuji Hori (creator of the Dragon Quest games) on the gameplay and story. While we don't often get to see his personality and responses, we watch him bravely grow as he is quick to rescue the damsel-in-distress and race forth to save the world. Crono is just a simple boy that is on a mission, nothing more and nothing less, and this worked for millions across the planet. This is quite different with the protagonist of Cross, Serge.
Serge begins his story much similar to Crono – he is a seventeen year old mute avatar that lives in his mother's house by the shore and lives his life lackadaisically with his friends. The short intro to his life is cut dramatically short by a sudden storm on the beach and he finds himself trapped in a parallel dimension of his own home: only to find out that in this universe, he was killed in a storm when he was seven.
He is lost in this strange world. His mother no longer lives in his childhood home, his friends no longer recognize him, and he has no clue how to escape this rift in time. Strange men are also chasing him on the order of a man named Lynx. He meets up with a young woman named Kid and she helps him fend for himself.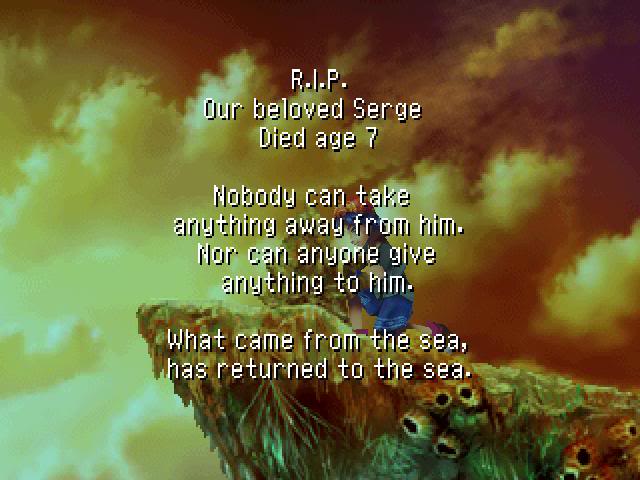 Part of where Cross is different from Trigger is in the story – there are branching paths and Serge has control of his own storyline that can make entire playthroughs of the game different while shifting through two dimensions; whereas with Crono, his storyline was fixed but with the ability to choose paths toward different endings through time travel. These branching paths in Cross are essentially fixed on one character: Kid. Serge has the option to deny her help early on, going forth for some time without her joining his party; even later on, she is mortally wounded and Serge is given the choice to go on a fruitless journey to save her or go on with his quest.
Kid is arguably the most fleshed out character of the lot (of which there are a lot of recruitable characters but only a few truly have their relevance in the story) with an incredibly backstory and a startling connection to a key character in Trigger. While Serge is searching for a way to reclaim his life, Kid is looking for vengeance for what was stolen from her. Both of them have a mysterious connection to the enigmatic Lynx.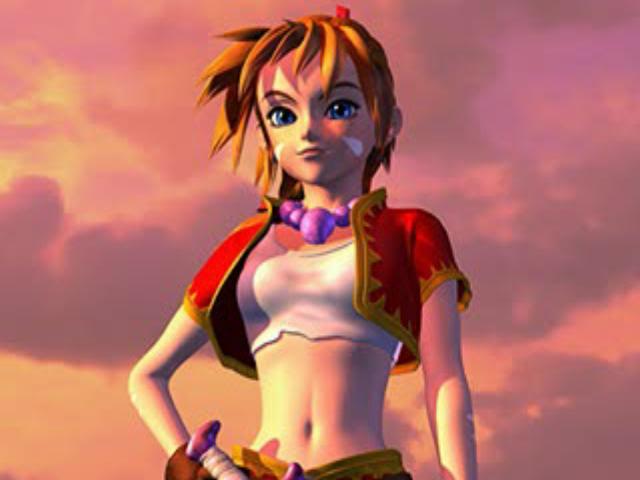 This villain, Lynx, has more to him than is let on.
In another shocking twist later on, Lynx takes control of Serge's body and swaps himself so that the protagonist is stuck in the villain's body. Desperately hiding away from certain death, Serge has to live as Lynx and do his best to repair the damage the man-beast has done to the world around him. He is taunted by a jester that is strangely reminiscent of Kid – a young woman named Harle – who asks him who he truly is? Did Serge ever actually exist? Was he always Lynx? What does it mean to exist?
What is the worth of a soul?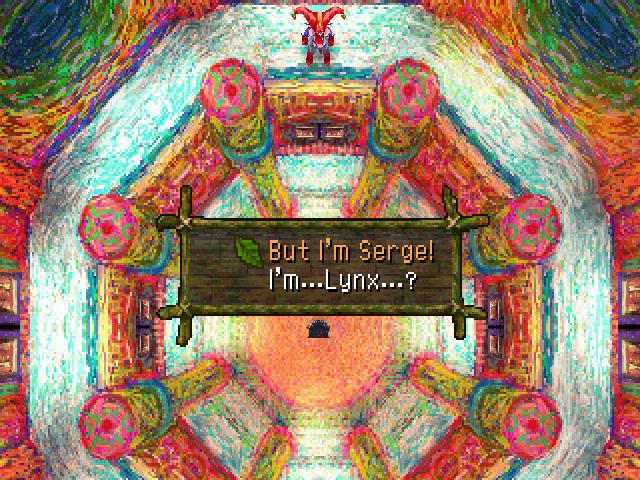 This is the main message, or question, that Chrono Cross asks. How much can one's reality change before they are no longer really themselves? If the circumstances of a man's life changes, does he still remain the same person underneath it all? It is left to be open for interpretation, several other moments reinforcing these existential motifs. In the gameplay alone, one will find that characters will be wildly different from dimension to dimension: some will be a fisherman in one life, a dedicated martial artist in another; another will be happily in love, only to be a widow; a noble knight in the first dimension only to become a murderer blinded by a cursed sword.
In the final swing of the game, after blindly following the wise and worshiped dragons, Serge learns that they have been deceiving him all this time. At one point, in another timeline, they were the inheritors of the planet only for it to be denied to them and cursed away, sealed from ever enacting their vengeance from what was stolen. Did humanity deserve to keep the world that they stole? Were the dragons in the wrong for wanting to take back what was taken from them? The game itself doesn't hold judgement, though Serge must stop them to fight for his own existence (though the dragons are doing the same, fighting for the existence they once shared).
The disruption of time is caused by a key character in Trigger being trapped in a place of inexistence, lost in the annals of time with the deadly villain of that game named Lavos. This character's capture was the source of disruption between the two dimensions and saving them meant restoring the balance of the universe – bringing all of these individuals, all their scenarios and victories and losses, back to where they were meant to be. Cross ends with all the characters saying their goodbyes as they accept their universes being corrected, their memories soon to be wiped, hopeful that they will one day meet once more. The song Radical Dreamers ~The Jewel That Cannot Be Stolen~ plays in the credits as the universe is fixed, showing a cinematic of Kid as she looks out into the ocean:
"I've followed this far in search of
That glimmering light
Clasped in the hands of a child,
Wandering the brink of time.

I have continued searching for you,
Though I know not your name,
Because I wanted to share
This feeling with you.

Time envelops both love and pain,
Until they fade away.
But I still remember them
And always will.

Though I cannot remember when,
A whisper began echoing
Deep within my heart,
Fainter than drops of evening dew.

May this prayer I spin
Weave through the darkness of the frozen stars
And reach the skies above you,
So far away."
The ending still is one of a man and a woman, possibly Serge and Kid, together once more – suggesting that despite their memories being lost, their adventures lived on in their heart and allowed them to connect once more in this true and complete dimension. Even when reality changes an individuals perception, even when it fulfills and breaks, it cannot steal the jewel that rests inside the spirit and the soul.